Show Posts
This section allows you to view all posts made by this member. Note that you can only see posts made in areas you currently have access to.
Messages - Wifey G3X
Pages: 1
1
« on: September 01, 2012, 11:02:43 AM »
We now have a new division for Counter-Strike: Global Offensive!

2
« on: August 17, 2012, 02:15:17 PM »
We are looking for some staff members for certain jobs! If you feel like you have leadership skills, please come and recruit and then learn how you can become a member of the GEN3X Gaming Staff!
We are also still recruiting for regular members. Come check us out!
3
« on: July 12, 2012, 01:24:26 PM »
Come check us out! We are a friendly bunch who are basically a family! Come to the site and see if you would like to become a member of our gaming family!
4
« on: June 26, 2012, 02:02:01 PM »
Our MW3 tournament was a success and our first place winner won 4000 MP and 1 year of COD Elite Premium. Come join our family for your chance to win cool prizes! We have contests going on RIGHT NOW! Come join!
5
« on: June 20, 2012, 12:47:02 PM »
Registration ends tomorrow 6/21/2012! If you want to compete and win a cool prize! Then you need to sign up today!
6
« on: June 20, 2012, 12:20:43 PM »
We just received our first shipment of shirts from our sponsor! Come join us and stay tuned for your chance to win one!
7
« on: June 11, 2012, 11:57:08 AM »
Registration started today!!! First 30 members to register for the tournament are the ones who will compete!
8
« on: June 09, 2012, 12:57:06 PM »
Hopefully it's ok if I post this here! If not, I'm sorry!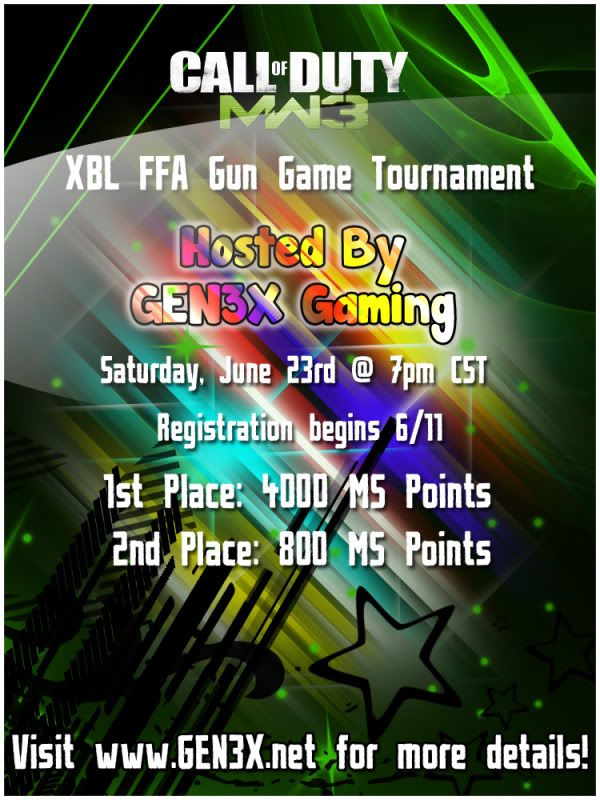 9
« on: June 08, 2012, 02:41:29 PM »
Hi Iím Wifey!
I am one of two founders of
GEN3X Gaming
. My best friend Juicy and I created GEN3X Gaming so we could have a friendly gaming community to go to everyday and talk to our friends. We also have a clan to represent our community in the gaming world and we are currently recruiting for the following games:
-MW3
-COD Black Ops
-Halo: Reach
We accept both male and female gamers!
If youíre a female gamer, as girl gamers ourselves, we understand what you go through on a daily basis on XBL while just trying to have a good time playing the games you love. Thatís the reason we created this friendly community and we have no limitations on who can join. The only thing we ask is that you are 16 or older and not a jerk or jerkette. lol
We are looking for casual and competitive gamers for our clan. We are involved with Game Battles and also have friendly competitions with each other. We also recognize the gamers who canít be online as much as others so we offer a casual spot in our clan where you can just play with us whenever you have the time.
For the competitive players, we do have COD Elite!
We are currently having contests and giving away prizes too! Who doesnít love free stuff???
Once you complete recruitment and become a member of Team GEN3X, we also have some staff positions available! If youíre interested in being a staff member, we are looking for people with good leadership skills to help us run things on the site and with the Team. Something to think about when thinking about recruiting with us.
You can find us here:
gen3x.net
In the forums you can go to the
ďInterested in joining Team GEN3X?Ē
sub-forum and you will find EVERYTHING you will need to start recruitment. If you have any other questions you can contact Juicy or myself at the website and we will be glad to help!
Hope to play with you guys and girls soon!
Pages: 1